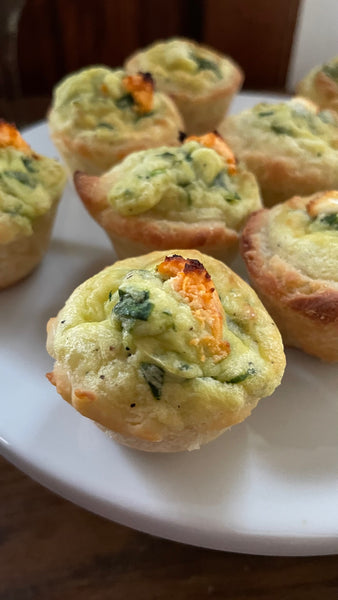 Mini Quiches - Feta & Spinach
Our Feta Spinach and Cherry Tomatoes quiche is now available in perfect bite sized appetizer format!
Feta and sun-dried tomatoes are churned into a paste that tops a delicious spinach cheddar cheese filling. The foundation of this bite sized appetizer is our famous brioche dough. 
One tray contains 12 mini quiches. Needs to be baked prior to consumption.
Ingredients: Wheat, Eggs, Milk, Unsalted Butter, Cheddar Cheese, Feta Cheese, Heavy Cream, Spinach, Sun-dried Tomatoes, Garlic, Salt and Pepper.
ALLERGENS:  Wheat, Eggs, Milk.
Keep frozen till use.