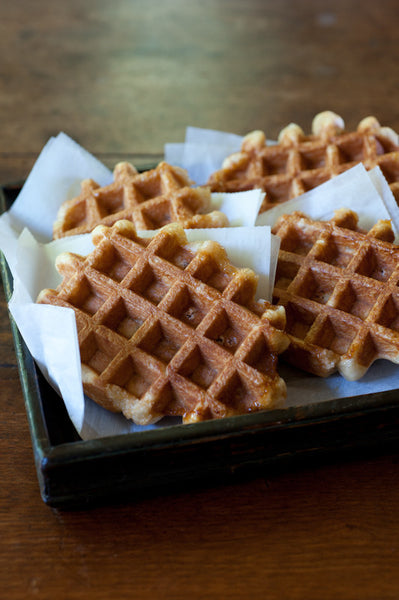 Authentic Belgian Sugar Waffles (6 Waffles)
We make the authentic Liège waffle, the best you will ever taste. The Liège waffle is a dense, crunchy and chewy waffle, made with a yeast dough (instead of a batter)  and sweetened with real pearl sugar (*) imported from Belgium. Perfect all by itself - or with ice cream and slices of fresh fruit ;)! Email us a picture of your waffle creation!
(*) Pearl sugar is made from sugar beets.  The refined sugar beet sugar is compacted under very high pressure which makes for a hard grain, that "caramelizes", instead of melts, during the baking process. The pearls guarantee an extra sweet and crunchy sensation with every other bite! 
 This package contains 6 Liège Waffles.
Store frozen in airtight container upon arrival. Heating Instruction included.
Signature Ingredients: Flour, Yeast, Pearl Sugar, Farm fresh Eggs, Butter
Allergen: Wheat, Eggs, Milk
NUT FREE
---